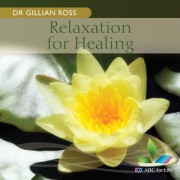 Dr Gillian Ross guides the listener through deep relaxation and gentle yoga practices bringing peacefulness and calm. De stress and unwind with these beautiful CDs accompanied by soothing musical tracks.
Dr Ross's CDs provided a way out of the sheer emotional black hole of my panic attacks and depression, without her CDs I don't know how I would have recovered.'
Kat
Two half hour practices that take you into deeply healing states of relaxation.