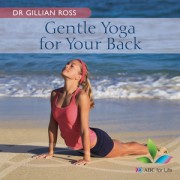 Dr Gillian Ross guides the listener through deep relaxation and gentle yoga practices bringing peacefulness and calm. De stress and unwind with these beautiful CDs accompanied by soothing musical tracks.
'I conscientiously practice 'Gentle Yoga for your Back', and am relieved and grateful that my long enduring back and leg pain has disappeared. I appreciate and love my yoga session with Gillian's CD.'
Patricia Vipond
The gentle movements and relaxation practices on this CD are recommended by Gillian as a daily routine for maintaining a healthy spine, for alleviating back problems and for helping to prevent osteoporosis.