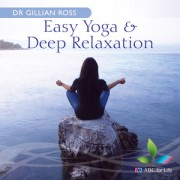 Two Yoga Nidra sessions which are deeply healing and a natural and effective way of preventing the build up of stress in your body. The first of the two sessions uses a deep breathing technique to induce the relaxation response.
'Gillian's CDs are fantastic. They have a dual purpose for me. I use them during the day to give me more energy and at night to help me to sleep. I look forward to putting one on when I come home from work. It is amazing how rejuvenating a 20 minute relaxation session with Gillian can be'
Helen Miller

I do one of Gillian's relaxation sessions every single day. The benefits are enormous, physically emotionally and spiritually. I encourage everyone to make the time to use one of her CDs as often as possible.
Dr Ditta Bartels
Gillian guides you through yoga and deep relaxation to help you to connect with a more profound dimension of yourself.