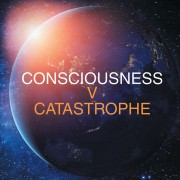 "The significant problems we face cannot be solved at the same level of thinking we were at when we created them." Albert Einstein.
The current crises besetting humanity call for a revolution in consciousness and a mystical renaissance that will bring about a whole new story of what it means to be human. To this end, Consciousness v Catastrophe introduces the reader to the new philosophy of evolutionary spirituality. It is a philosophy that is engaging visionary scientists, philosophers and spiritual thinkers across the planet. They are forging a new understanding of evolution that honors science, reframes culture and radically updates spirituality.
Evolutionary spirituality sees consciousness, not matter, as centre stage in the mystery that is evolution, reconnecting us to the sacred dimension of existence. It celebrates the realization that the creative energy, that has driven the evolution of the universe for billions of years, is now becoming conscious of itself through us. It is a radical worldview that awakens our mystical and creative potential, inspiring us to discover our unique purpose in life and enabling us to serve the bigger picture with humility, gratitude and joy.
In a very reader friendly way, Consciousness v Catastrophe explores this new story of evolutionary spirituality, revealing its compatibility with both contemporary scientific knowledge and with the spiritual wisdom of mystics from all times and traditions.
Gillian Ross has long been an intelligent, passionate, sincere participant in the 'great conversation' by which evolving human consciousness is grappling with its responsibility for what seems to be our rapidly-approaching global catastrophe. Consciousness v Catastrophe is an engaging tour of her journey through this bubbling territory, one that will stir new insights and reckonings and catalyze fresh awakenings.-Terry Patten, co-author with Ken Wilber of Integral Life Practice and founder of the online seminar series Beyond Awakening