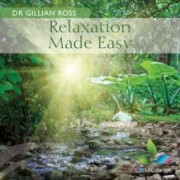 Dr Gillian Ross guides the listener through deep relaxation and gentle yoga practices bringing peacefulness and calm. De stress and unwind with these beautiful CDs accompanied by soothing musical tracks.
'The only trouble I have with Dr Ross's CDs is getting up after them! Dr Ross has the perfect voice for deep relaxation, quiet, soft, caring, gentle and supportive.'
Catherine Mercer, Editor, The Art of Healing
Dee p relaxation of this kind is extremely therapeutic, as well as alleviating mental and physical tensions, it helps you to sleep better, worry less and nurtures a general sense of well-being.
Click to buy here from ABC Shop Online –> BUY