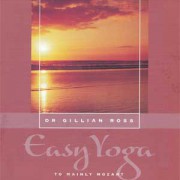 In Easy Yoga, Gillian guides you through two half hour exercise sessions combining deep yogic breathing with gentle stretches and simple yoga postures. The exercises are interspersed with meditative pauses and accompanied by the soothing sounds of some popular Mozart pieces.
The exercises in both sessions are very meditative and use the power of the breath and focussed awareness to calm the mind and heal the body.
Price includes postage anywhere in Australia.